What do we offer to our customers?
Our customers are our greatest value. We love them, we feel we are community and we treat them with respect and professionalism by offering them a packages of DIY elements. With our products a person can create professional audio devices and save a lot of money by doing so! Basically we are offering:
• great racking solutions for all kind of your DIY audio projects!
• a range of various hi end DIY audio KITs with cases + PCBs and more…
• racking solutions for a wide collection of many known world wide DIY projects.
⭐️⭐️⭐️ DR-ZEN2 – THE EMI* ABBEY ROAD SPECIAL EDITION COMPRESSOR/LIMITER ⭐️⭐️⭐️
"Firstly, the unit looks the part. The screen printing on the face plate is clean and sharp, the 'classic look' knobs are amazing as are the two meters set 90 degrees to each other and the toggle switches are not too big and obtrusive. In use, having used many of the old units, it didn't disappoint! The controls were smooth and responsive, the toggle switches were very positive and the level meters gave an accurate display. But it's the sound that counts and that classic sound punched through as soon as the bypass was turned off! Everything was as true to the original as could be with a rich, creamy compression that only these units could give. Running it soft it gently held things in check but still had a hint of that character and really slamming it made the likes of drum overheads open to a room twice the size! In use for mastering, as always, little is best and it did the job and more with every genre of music I hit it with. Christian Holmes has done an amazing job building this unit.
Well Done. Very impressed!"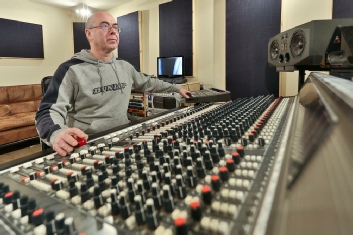 Ian Thompson, recording engineer for over 40 years working with artists such as Erasure, Kate Bush, Mike Oldfield, ELO Part II and owner of White Wolf Recording Studio for over 20 years.
1. Save Money – lots of it!
By doing things yourself you can save yourself a lot of money. If you think you aren't skilled enough (We promise you are!) and don't trust yourself to connect few wires, we have great support and community awaiting to help you!
2. Self accomplishment
Sense of accomplishment. It always feels good to stand back and enjoy the "I did that" feeling. What's more you can impress your clients in the studio the next time they come around.
3. Get that sound of pro records
Taking control of your artistic and creative vision by assembling your own gear will take your music to the next level. Meaning you'll be able to reach that professional sound with your own gear.
4. Top quality components
Not only do you have complete control over which components you choose, you also get top quality components which was picked after meticulous days of testing. Only the best!
5. Support
Always moving forward in our efforts to improve your DIY experience and our online support. We may not know what your question will be when we answer your request, but we know we'll be able to get your answer 🙂
5 MAIN REASONS TO CHOOSE US
You may be asking yourself why should you do it yourself instead of buying original gear? Here are some of our reasons:
Beyond the satisfaction that comes with creating something using your own two hands, there are many benefits of DIY-ing. Not only can it help you save money, but DIY projects offer you real, hands-on ways to empower your mind and improve your studio skills.
Not only you'll understand your gear better you will be able to sue it to it's full extent. You can get exactly what you want, assemble it and start working with it.
You can achieve "that" professional sound quickly, with no fortune spent. Great gear to everyone!